BENARAS Indian Restaurant brings healthy Indian food to Saigon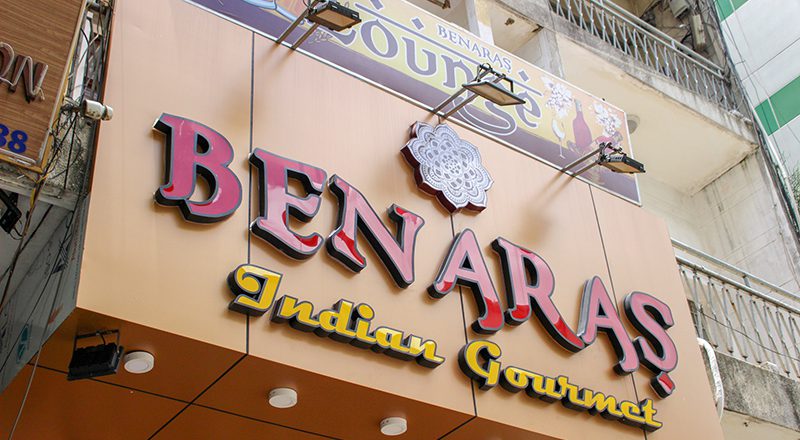 Benaras Indian Restaurant, Lounge & Bar is nestled on a side street next to the Saigon Opera House in Ho Chi Minh City's historic District 1. Upon entering I can tell right away that I'm on the verge of enjoying a fine dining experience, something out of the ordinary for most Indian restaurants in Saigon.
I'm greeted by a polite host who introduces me to Nidhi, Benaras' dynamic owner. A corporate coach by trade, Nidhi opened Benaras Indian restaurant in Saigon as a kind of passion project. She believes that there is a gap between the Indian food she is accustomed to cooking at home with her family and that which is provided by the eating establishments in Saigon.
It begins to dawn on me, as I peruse the menu, that despite having eaten at many Indian restaurants over the course of my life, perhaps I'd never had authentic, North Indian, homestyle cooking.
Healthy Takes on Traditional Indian Cuisine in Saigon
Benaras Indian Restaurant, Lounge & Bar boasts a staggeringly extensive menu including classics familiar to Indian food fans, like the chicken tikka masala. This widely known North Indian dish is made of tender chicken marinated in spiced yoghurt for hours. It is then roasted in Tandoor (an Indian clay oven) and combined with a thick paste of tomatoes and onions to create the perfect masala consistency. Amazing paired with butter naan, the dish uses no food colouring and minimal oil.
Love naan but want to taste something new? Try the makki ki roti and sarson ka saag. This is a classic and quintessential Punjabi dish consisting of handmade and well-ground, maize flour flatbreads served alongside blended spinach and other leafy veggies that are flavoured with mustard leaf and Indian spices.
Other dishes will surprise and please even the most adventurous palates. For example, the menu offers a large selection of Indian street foods. Benaras Indian Restaurant is the only restaurant in Saigon to offer these popular street food specialities that delight tourists and locals alike throughout India. Gol Gappe, which is a crispy puffed ball filled with spiced chickpeas, is a great place to start your culinary tour of Indian street eats.
An Indian Restaurant in Saigon for Vegetarians and Meat-Lovers Alike
Benaras Indian Restaurant also has an expansive vegetarian menu, which includes Dahi ke Kebabs, an appetizer not commonly found in Indian restaurants outside of North India. Crisp on the outside, soft on the inside, these fried cutlets of homemade Indian yoghurt curd (Dahi) provide a perfect front between sweet and savoury. Their texture alone is sure to make you return for seconds.
Benaras is the only Indian Restaurant in Saigon which has taken a step towards building Intercontinental dishes fused with Indian herbs and spices such as the Crispy Corn with Prawn, Lemon Coriander Prawns, Calamari Tempura, Tandoori Chicken Salad and the Tikka club sandwich, to create unique flavours not found in any other Indian restaurant in Vietnam.
Impeccable attention to detail is a staple of Benaras' offerings. The flavours of each dish are splendid, yet subtle, featuring an aromatic blend of spices that tantalise the taste buds.
Grandma's Indian Recipes Transformed by 5-Star Chefs in Saigon
When I ask why there is such a disparity between the way that Indian food is cooked at home versus the way that it's cooked in restaurants, Nidhi spoke in detail about how most Indian restaurants cook their foods with an overabundance of nuts, butter and spices, which makes the food overly rich and even difficult to store.
"Sometimes, even in India, I am hesitant to eat at an Indian restaurant because I know that it's going to be very heavy and I cannot eat that."
Conversely, Benaras' cuisine uses up to 80% less oil and the chefs eschew the use of artificial colouring. The chefs also cook with Halal meat and make sure to use fresh vegetables.
Nidhi continues, "We are coming from a background where our grandmothers used to make very delicious food with a minimum of ingredients!"
The team of chefs, many of whom have experience in 5-star restaurants, use these cooking practices to replicate this homemade, yet refined taste experience.
Classic Indian Flavours Meets Modern Comfort in Saigon
Words of affirmation and symbols related to spirituality and well-being are posted all around the restaurant. Some restaurants use these images as simple decoration but at Benaras Indian Restaurant, Lounge & Bar they feel sincere. The restaurant also boasts a lounge within which one can enjoy live sports, music, movies and karaoke while enjoying drinks from Benaras' full bar.
All in all, Benaras Indian Restaurant, Lounge & Bar is a pleasing mix of the traditional and the contemporary. Their delectable and health-conscious cuisine is suited to a range of experiences from fine-dining to street food making it an excellent choice if you are looking for an Indian restaurant in Saigon that offers more than just the standards.
The refreshingly welcoming decor provides an immersive experience that visitors are bound to visit again and again as they enjoy their new go-to spot in Saigon for authentic North Indian cuisine.